Top 10 Pros and Cons of Living in London Ontario
Justo Team
|
June 22, 2022
It's true that city life is not for everyone. That said, there are some cities that perfectly balance the feel of a small town with an active lifestyle that's similar to larger urbanizations. For example, London, Ontario.
There is no doubt that London is a beautiful city, but it has much more to offer than breathtaking buildings and superb parks. Located in southwestern Ontario, some 200 kilometers west of Niagara Falls, London has become a popular alternative for a variety of reasons. That said, you need to evaluate the different elements that make it attractive to determine if it's the right city for you and your family.
In this article, we'll share 10 living in London, Ontario pros and cons to help you decide if it's the right city for you.
Top 10 Pros & Cons Of Living In London, Ontario
Before going over the pros and cons of living in London, Ontario, it's important to understand that every family has a unique experience.
If you're planning on potentially moving to London, you should learn more about the most suitable neighborhoods, the average home price, and of course, the city's different amenities. Researching all of these can take some time, but you can always work with a real estate agent that knows the city in order to find your perfect home.
With that said, let's take a look at our 10 pros and cons of living in London, Ontario.
Pros of Living in London, ON
First, let's go over our 10 pros of living in London, ON.
1. A Great Location
London is located in Western Ontario, which is the most densely populated region in Canada.
Because of this, Londoners have access to other great cities, including Toronto, Hamilton, and Mississauga. If you're up for it, you can even drive down to Detroit or visit Buffalo and New York if you prefer driving to the other end of Lake Erie.
2. Communities that Embrace Their Members
One of the reasons why London gives off a small-town atmosphere is that it has a tightly-knit society. It's common for people to make time to visit friends and family members even during the busiest time of the year, which shows how committed Londoners are to each other.
3. Affordable Property Prices
Prices in the Greater Toronto Area and Ontario as a whole are known for being higher than the national average. London is a refreshing alternative because you can find beautiful homes at a great price in the most desirable parts of town.
4. Above-Average Healthcare and Education
Canada's healthcare and education systems may not be perfect, but they are among the strongest pillars in our community. Many areas in London have earned a reputation for having great schools and well-equipped healthcare facilities. London is home to Western University, Fanshawe College and a network of hospitals including University Hospital – London Health Sciences Centre.
5. Awesome City Amenities
London, ON boasts great recreation programs, well-maintained parks, equipped city facilities, garbage collection systems, and a public transportation network that covers the entire city. Not only this, but London is also one of the region's arts and cultural cores, so there are many programs looking to revitalize these areas.
6. The Weather Is Not Perfect, But It's Not Terrible Either
Let's be clear: London is no Vancouver or Victoria. But, when compared to the weather in all other nearby cities (except, maybe, for Toronto), the weather in London is not bad at all!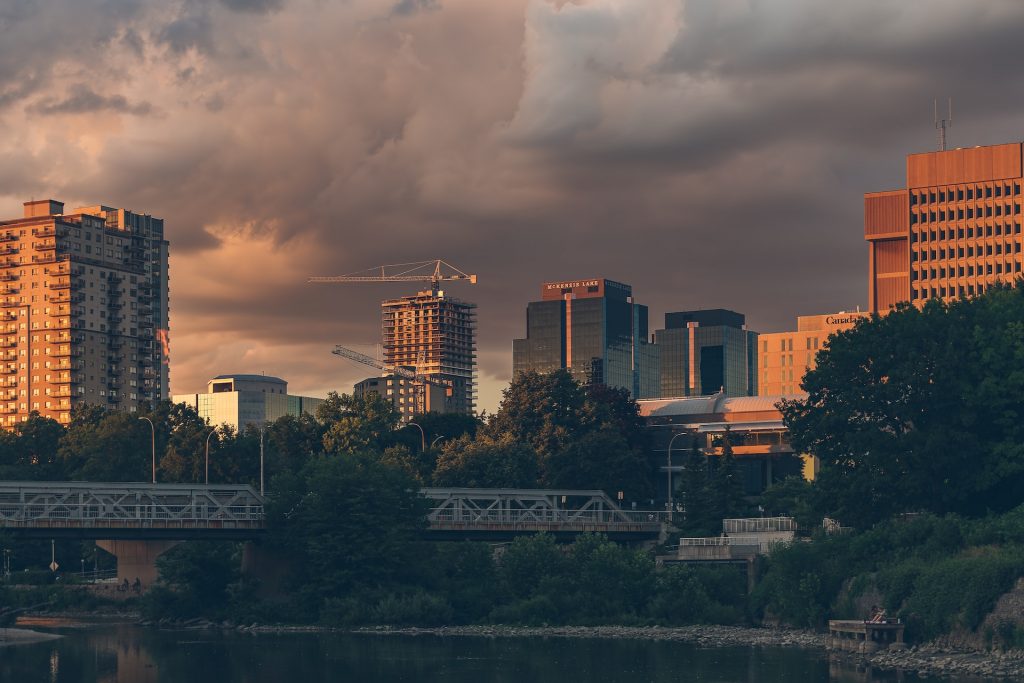 The Forest City has an average of 286 sunny days per year and a grand total of 1793 hours of sunlight, both of which are higher than in some parts of British Columbia, New Brunswick, and Newfoundland.
7. Access to Airports in Both Canada and the U.S.
Toronto has become one of the biggest international flight hubs in the world, which means that residents of London can access one of the best airports in North America in a matter of hours. Depending on your destination, you can also look at direct flights departing from Detroit, Niagara Falls, or New York.
8. Vicinity to Natural Attractions
Londoners can get to the beaches of Lake Erie and Lake Huron in a matter of minutes. The best part is that these are just two of the many natural attractions that London residents can enjoy.
9. Innovation is at the Forefront of Almost Everything
While Toronto is regarded as the most innovative area in Ontario, London has its own tech initiatives that have transformed it into one of the most advanced cities in Canada. Thanks to city-backed events like the London Innovation Challenge, Londoners have the opportunity to establish, grow, and collaborate on exciting projects and build a stronger sense of community.
10. A Diverse Population
All of the reasons above make London a great option for everyone. This is the reason why The Forest City is extremely diverse.
Londoners have the chance to meet and establish valuable relationships with people from different cultures and backgrounds. This is extremely valuable, especially for families who want to experience new cultures without having to organize expensive holidays on a regular basis.
10 Cons of Living in London, Ontario
London has a great community vibe, nice neighborhoods, and even a few sporting events. With that said, some folks may find London a bit rough around the edges, especially if they settle in areas with cheaper housing.
Let's take a look at some of the cons of living in London, ON.
1. A Competitive Job Market
Finding a paid job in London, Ontario can be tough and this is mainly due to the competitive job market.
The truth is that job opportunities are not scarce, but London's good schools and relatively affordable housing have attracted a large number of qualified workers. This doesn't mean that you won't find good employment, but you may notice that employers rule the market because there are many great candidates to choose from.
2. Lack of Entertainment Options (Relatively to Big Cities)
First, let's make one thing clear: London, ON features a collection of food and music festivals throughout the summer every single year as well as amenities like a fold course and other sports facilities.
The city also has an array of winter activities that include skiing and snowboarding as well as walking trails, hiking paths, and many other natural attractions. Plus, if you rather avoid the cold winter, you can choose from a variety of destinations and buy cheap flights thanks to the region's many airports.
However, if you're looking for the same level of entertainment as in major North American cities (Toronto, New York, or similar), you may find that London has room for improvement.
3. Few Resources to Assist the Homeless
This may boil down to a social problem, but the homeless have become one of the city's most latent issues. Many believe that this has influenced, at least partially, the city's crime rate, which sits above the national average.
4. Traffic is Pretty Bad
Like many cities that have experienced a large growth in population, London has bad traffic during rush hour. Depending on the part of the city, you may also experience traffic outside of rush hour, especially if coming in through the North End or West End.
5. Lack of Parking Zones
If you've been in London, ON before, you know that finding street parking or a parking lot is almost impossible. This, in part, also contributes to the traffic problem, especially in areas with good restaurants or along the Thames River. The city has announced plans to improve parking and help create better transit conditions, although there has been no timeline set as of this writing.
6. Tax Rates Are Not Low
Tax rates in London, ON are known to be as high as in Toronto and other major cities in Ontario. The only problem is that the two cities don't offer the same services. Despite the fact that some of the city's amenities are top-notch, a large part of London's public services can and should be improved in the next few years in order to make up for the high tax rate.
7. The City's Design is Not Intuitive
After living in London for a while, you may notice that the city doesn't seem to be intuitive. This has led to many citizens complaining about the actual design of the city itself. Additionally, new plans for the city don't show any progress as leaders refuse to make major changes to relieve some of the city's most trafficked areas.
8. Renting a Property Can Be Expensive
If you want to rent a house in London in order to find a property to buy, either think again or be prepared to pay top dollar for a rental. The cost of living for non-homeowners has become almost prohibitive, so you may want to look at purchasing a property if you can avoid renting altogether.
9. A High Percentage of People Living Below the Poverty Line
It's no surprise that, given the competitive job market and expensive rentals, many families in London, ON live below Canada's poverty line.
10. Little to No Environmental Initiatives
London, Ontario features beautiful natural attractions, but it's worth noting that there is a lack of environmental initiatives to help maintain these green areas.
Conclusion
London is one of Canada's premier cities because it has a little something for everyone. We hope that our list of pros and cons helps you make the best decision for you and your family.
If you want to learn more about the best neighborhoods in London or how to find the best properties for sale, contact Justo. Our team of local London real estate experts will be glad to help.
Browse Over 15,000+ Listings for Sale in Toronto
Get a Free Home Valuation
Request a free home valuation and receive comparable sales prices of homes in your neighbourhood.
Connect With Us
Connect with our friendly Client Ambassadors and find the best Agent to match your needs
Call us at 1-855-937-0206